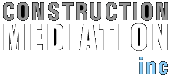 ABOUT THE FOUNDER
Gary Morgerman, founder and president of Construction Mediation Inc. (CMInc), was born, bred, and educated in New York City. A graduate of the Cooper Union for the Advancement of Science and Art, with a degree in structural engineering, he later attended New York University School of Law.
Mr. Morgerman began his career working as a design engineer-- also serving as a field inspector, resident engineer, and construction manager-- for a number of engineering firms, owners, and contractors in the New York City area. Twenty years ago he entered the field of construction claims and Alternate Dispute Resolution. CMInc opened its doors in 1983, the first firm in the New York metropolitan area to specialize in mediation to resolve construction disputes.
Mr. Morgerman arbitrates and mediates construction cases for a number of organizations, agencies, and court systems. These include the Supreme Courts of New York and Westchester Counties, the New York City School Construction Authority, The Mayor's Office of Construction, the FDIC, the United States Department of the Interior, and the American Arbitration Association, among others. He also provides construction claims services for construction entities and law firms. Having written and spoken all around the country on these subjects, the Associated General Contractors cited him for his "pioneering and revolutionary efforts" in the field of construction mediation.
back to PROFILE
Copyright © 2008 Construction Mediation Inc.